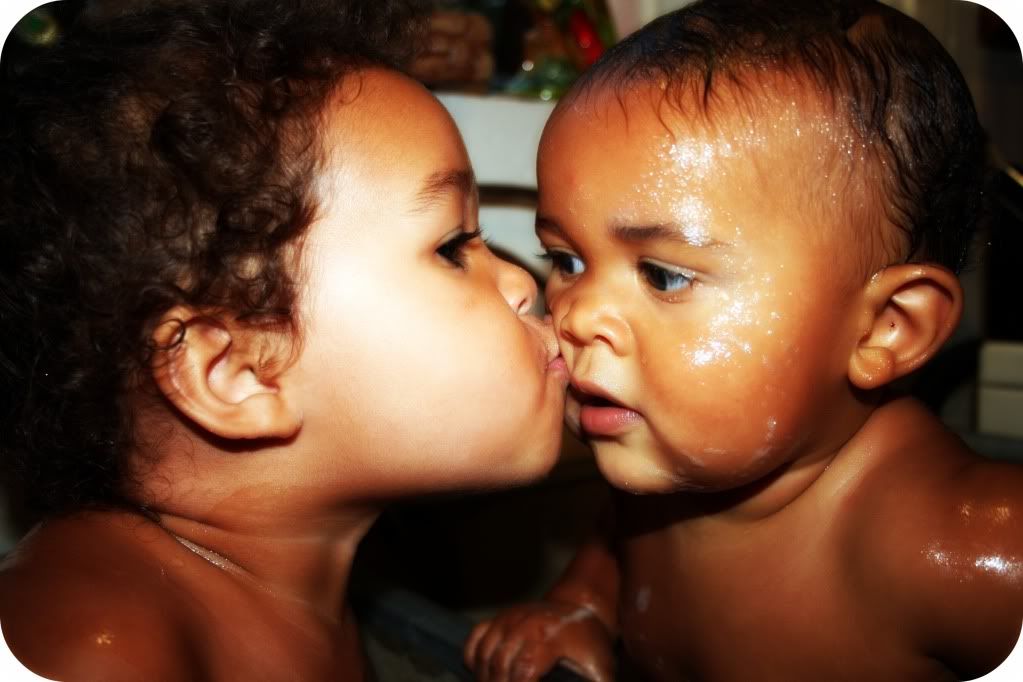 Livi and Baney: bathtime smooches
"Mama," said Livi, placing one tiny finger to her dimpled cheek.  Splats of green jello smeared high chair tray before her, but she leaned in earnest, like one who knows a secret.

"Bane Bane is my best friend."
these words … unprovoked and out of the blue … on the very day that Baney got sick.

Words to melt any mama's heart … any mama who has placed a pudgy toddler hand to her belly to feel new sibling kick and wondered "how will i share it — this mama's heart that has been captured so completely by firstborn?  How will there be room for two in my every waking thought, in my heart's every beat?



then he came.  and she knew.  miracle of miracles, love poured in exponents, and like disciples' baskets of fish and loaves, there was plenty to spill over.  mama and daddy called him, this creamy skinned second-born, by the nickname butter brown.
and Livi called him friend. the best one, in fact.


"Friend" is a word that gets kicked around too easily, perhaps, as our lives spread us wide and thin.  Too busy to porch-linger and sit a spell.  Too tired to phone-chat and catch up.  Perhaps you've even "friended" someone on Facebook who you don't really particularly like very much.  Just the way it goes.


What if, though, we said friendship and meant it with the heart and sincerity of a two-year-old big sister?  What if friendship looked more like the passionate, drooly kisses of a baby brother than the once-a-year Christmas card?
must himself be friendly,
But there is a friend who sticks
closer than a brother.
Livi was a friend — a real heart-love friend— to her brother – and the knowledge of that will one day bless her memory of him, the way it blesses her parents now.

Will you be inspired to  "pay it forward" today — not only to strangers — but to those whom you call "friend?"  Will you find a way to show love (even if drooly kisses seem a tad much) to those whose heart strings you are tied to?
sometimes paying it forward is a small, simple good thing.
like being a friend.
Make time to show friend-love this week.
Then come back here and spill some of that feel-good into the comments.  Your thoughts — and your kind deeds — bless others, and they bless those who read here as well.